Where has the time flown? One minute U2 is on a barge on Dublin's Grand Canal Dock, the next moment, out in the desert near Las Vegas, prepared to blaze a path of high-tech wizardry at the just-built Sphere at the Venetian Resort. With not a drop of irony, they still haven't found what they're looking for.
Article continues below advertisement
U2 is at the resort, minus drummer Larry Mullen, Jr. who is recuperating from surgery presumably to repair years of "physically abusing" his body (although he was behind the kit for the band's video shoot for "Atomic City"). Dutch drummer Bram van den Berg from the band Krezip is behind the kit temporarily as they immerse themselves in a specially built high-tech orb. The multimedia event titled U2: UV Achtung Baby Live at Sphere has commenced with thirty-six spectacular, mind-oozing, sensory overload shows until February 2024.
Article continues below advertisement
The Sphere itself — with its 360-degree sound, 18,000 seats and 366 x 516 foot screen — was first unveiled in a ground-breaking ceremony in 2018. But as the COVID-19 pandemic took hold in 2020, construction was halted due to supply-chain demands and personnel safety. However, U2 was never going to back down from the gig, whenever it happened.
Article continues below advertisement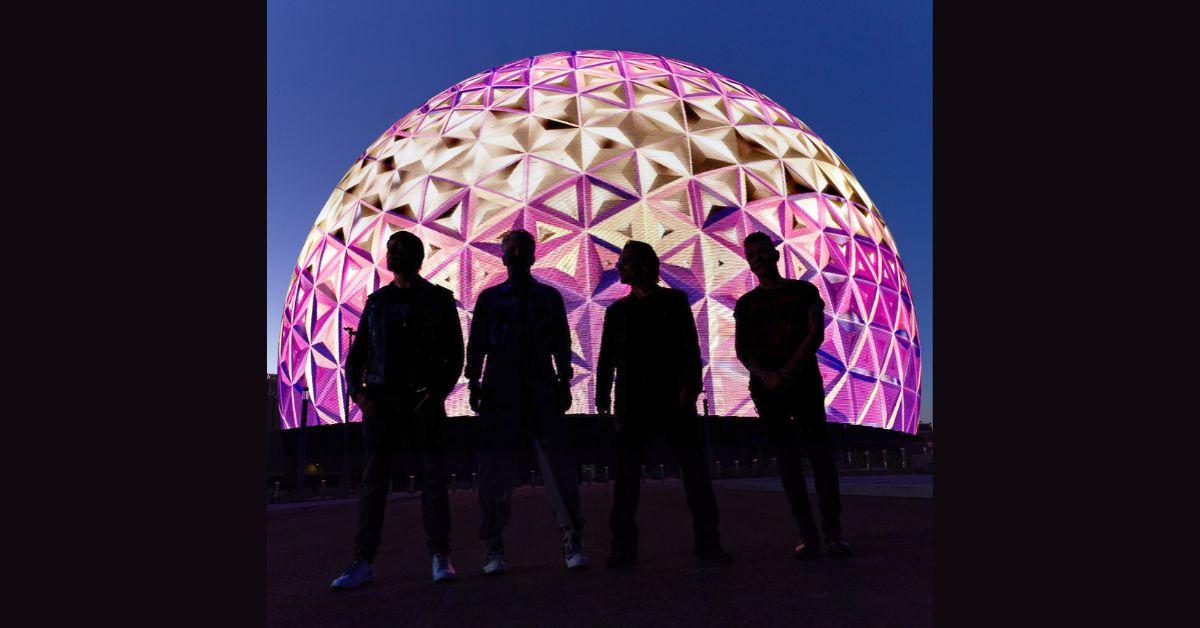 One could say the quartet are boundary pushers. Or tech geeks. Or thrill seekers. Any way you call it, this is a first and quite honestly, U2 had to be the go-to guys. Not many entertainers one associates as a 'Las Vegas act' could categorize this as a residency. The Edge doesn't think so. "The more we found out, we kind of saw it as a throwdown… as a challenge," he told Variety in June.
Article continues below advertisement
All this applied science is admittedly, mind-trippy. However, the band has also set themselves an incredibly high bar to match past performances. There have been dozens of standout shows dotted about the internet over the last couple of years. With that daunting task staring us down, let's have a look at the following and figure out where they fit in the pantheon of 'best gig ever' from U2.
Article continues below advertisement
Live Aid, July 13, 1985, Wembley Stadium, London
This performance is not number one or number five. It instead sits in the rarified realm of 'that actually happened.' And as the worn-out adage goes, if you weren't there, you don't understand. And to a certain extent, that is true. For those who attended or watched in real-time and saw the abbreviated sets, every artist or band had a strict time limit onstage: 15 minutes. But as Bono stated succinctly, "We didn't do the hits because I'd gone AWOL."
As he sang "Bad," Bono went rogue, jumped down to the crowd barrier and began motioning for a person to come out of the melee. Those too far back to see had no idea what was going on and as future music journalist Pete Paphides recalled, Bono was gone for a long time "while the rest of his group acted as the musical equivalent of a plane circling the airspace near Heathrow awaiting permission to land."
The fans knew that the impromptu moment of getting a female to dance with was a Bono trademark. This stunt however took longer than expected. After getting two sisters, Melanie and Elaine Hills forward, Bono got his girl, Kal Khalique. But after the gig, his fellow bandmates made it known they were Not Amused and Bono, thinking he'd blown the whole thing, went off to brood. But much later, it was The Edge who explained to Rolling Stone thusly: "It really took us by surprise when people started talking about U2 as one of the noteworthy performances of the day. I thought they were joking, I really thought we were crap. But looking back, as I did a week later, I started to see what it was. It was the sense of real, total jeopardy, which is always very exciting for a live event, and Bono's complete determination to make physical contact with the crowd and eventually getting there after two minutes of struggling over barriers. I think there was something about the effort he had to put in to do it that somehow made it even more powerful."
Article continues below advertisement
War, June 5, 1983, Red Rocks Amphitheatre, Morrison, CO
What happens when you mix inclement weather, half an audience and U2 on the precipice of a make-it-or-break-it crossroad? You've got this performance.
The antecedent for this particular concert was not one show but the punishing schedule the band was pushing through for the War tour. Having played in the middle of the US Festival on May 30, followed by two indoor venues, Red Rocks was about to pose a huge problem. The forecast for poor conditions at an outdoor location had everyone — except the band — thinking of cancellation.
What was really going on? The gig was being videotaped to promote U2 to an American audience at a cost of $250,000. As torrential downpours and flash flood warnings commenced, the American crew assigned to the band decided it was too dangerous and walked off the stage. U2's manager Paul McGuinness made an impassioned speech, telling everyone that "the band's entire livelihood was riding on this, and that this was one of the most pivotal moments in their career," assistant recording engineer Randy Ezratty (who had already received a nasty electrical shock) revealed later in John Jobling's 2014 book U2: The Definitive Biography. "And it was not going to be tolerated that anybody would do anything but add their effort to a successful and positive outcome."
Two hours before the concert, the downpour subsided and settled into a misty drizzle. Only 4,400 of the 9,000 sets were filled, but the fog, precipitation and seeing Bono's breath steaming from his mouth sufficiently heightened the drama. When the full-length video U2 Live At Red Rocks: Under A Blood Red Sky and "Sunday Bloody Sunday" were broadcast (with heavy rotation on the two-year-old MTV), U2 made a breakthrough as a visually commanding live presence and equally, boosted Red Rocks' reputation as a premier music venue.
Article continues below advertisement
ZooTV, March 17, 1992, Boston Garden, Boston, MA
What this concert represents is not only a personal recollection but undoubtedly a historic moment among many for U2: an Irish band welcomed as brothers and escorted through the Gaelic gates as a sort of homecoming.
I was lucky enough to be among the 15,000 shoe-horned into the old Boston Garden on that night. Not having witnessed mass adulation on a level this high, the scene outside verged on frenzied madness, with the haves being accosted and shouted at by the have-nots pleading for a ticket to buy at any amount. The details allude me as to how I managed to get in, but it was probably a label rep for the opening act, Boston-locals-made-good The Pixies, that must have made the connection.
Amidst the literal sensory overload of huge screens projecting buzz words ("Everything You Know Is Wrong," "Sex," "Drugs Are Good") and Bono taunting the crowd clad in all-leather with slicked-back hair and bug-eyed wraparound sunglasses (being the self-proclaimed "The Fly" for this spectacle), the gig was a nuclear rendition of that year's hard buzzy-ness from Achtung Baby with sprinkles of Irish and Boston homages. Bono teased the crowd from the stage for getting a head start on their drinking, gave praise for The Pixies and showcased Tin Machine's Reeves Gabrels (a resident Bostonian) on the video screens.
The irony of Gabrels' tribute came back to me just months later when I interviewed him after the release of Tin Machine's live album, intentionally pun-titled Tin Machine Live: Oy Vey, Baby. Known as a purveyor of guitar aesthetics, he was somewhat critical of U2's sound at the Garden show and lamented that a basketball-cum-hockey venue didn't exactly convey an acoustically-friendly environment, i.e. The Edge's guitar sounded like crap.
The after-gig scene at a Fenway-area club was rift with speculation that U2 would show up, as the headliners Cliffs of Dooneen were besties. That didn't materialize but I was definitely left exhausted and exhilirated for the next 24 hours.
Article continues below advertisement
A Conspiracy of Hope, June 4-15, 1986, 6 shows, US
This outlier is rooted in something larger than U2. Conceived as six benefit concerts to increase awareness of the human rights organization Amnesty International, this short tour of the US included five mid-size venues and for the finale, an all-day concert at Giants Stadium. The gathering of musicians — U2, Sting, Peter Gabriel, Lou Reed, Joan Baez, The Neville Brothers and Bryan Adams — was in fact, not the first time this message was being broadcast.
The impetus for getting the word out came from John Cleese. In 1976, he helped stage The Secret Policeman's Ball, a benefit for the UK arm of Amnesty International that featured British comedians, including members of Monthy Python. In the wake of that assembly, came the extension into the music community in 1979 with the help of The Who's Pete Townshend. The 1981 show featured Sting, Phil Collins, Eric Clapton, Jeff Beck, Donovan and Bob Geldof.
Fast forward to 1986 and the year after Live Aid. The testament to the power of that event jump-starts the call to action for Amnesty to stage shows with performers tuned into the zeitgeist of politics, freedom and personal courage. U2 decided to postpone their planned recordings of what would become The Joshua Tree to step up to the press conference tables and state their reasonings for being involved. In an interview before the tour, Bono told Rolling Stone, "The audience is going to be great. I know that because I was part of that audience once. I saw 'The Secret Policeman's Ball' and it became a part of me … It sowed a seed."
After turning the ignition switch, U2 was in sixth gear at the show's final stop in New Jersey. The Police had reunited for three shows, but U2 were driving the car to the finish line. Bono and Sting harmonized on the Troubles-era "Invisible Sun" and multiple performers joined the band for Steven Van Zandt's anti-apartheid collaboration "Sun City." As per the predominance of jesting critics who believed that the 'message' wouldn't have weight past the concert, Amnesty International reported that the concerts brought in 45,000 new members. In one month.
Article continues below advertisement
Elevation, Slane Castle, September 1, 2001, County Meath, Ireland
Perhaps the sentimentalist in us as U2 fans would agree that this show, on home turf, should fittingly slot in as one of their best. If not, the best.
Under difficult circumstances, the band had been touring Europe with Bono flying back to sleep at the bedside of his father Robert, who was dying of cancer. He passed several days before the first show on August 25. As Larry Mullen, Jr. explained, "It was twenty years since we'd played Slane. And it was thrilling to go back to our hometown and play to that many people. But Bob's funeral really felt like the end of an era and it took the edge off a huge occasion. The second show, a week later, was completely different."
To have traveled from being the opener for Thin Lizzy in 1981 to a return of 80,000 strong in support, the emotional atmosphere surrounding this show is palpable, even on video. Sure, there's an en masse of pogo-ing going on, with the stage design allowing hundreds of concertgoers to surround the band in a circular fashion. Yet, there are several instances, in hindsight, that show the intimate connection between performer and audience. And not coincidentally, from Bono to The Edge as they share the mic on the chorus of "Desire."
As the media noted in 2003 upon the release of U2 Go Home: Live From Slane Castle, Ireland, while there might have been some shared songs previously available on the Elevation 2001: Live From Boston DVD, the overall sentiment was that U2 had with this show, pulled the crowd into their sphere… foreshadowing in 22 years' time what would prove to be an even more ambitious and supercharged undertaking.
Article continues below advertisement
With over 2000 concerts to their name, it's telling that choosing only five, ten or twenty is a monumentally subjective task. Whatever parameters are brought to the table in sorting out which concert was the 'best' is certainly skewed by the subject matter at hand. U2 has already solidified their status in the rock pantheon of greats, even to this moment… it's still a beautiful day.