'Mentally, I had to prepare myself," says AJ Odudu of the premiere of the rebooted Big Brother. She's not talking about her presenting duties, nor the pressure of appearing before a raucous in-studio audience, with a further 2.6 million watching later at home. Because whether you know her name or not, Odudu is an old hand at the small screen, and fearless in front of the camera – be it learning to dance (and tearing a ligament) on season 19 of Strictly, attempting a sandwich cake in the Bake Off tent or fainting having heaved a 45kg load up a hill on Celebrity SAS.
No, what Odudu had to ready herself for, in gearing up for the highest-profile moment of the second act of her career – and what still has her grimacing slightly now, a month into Big Brother's run – is her launch-night outfit. "It was a custom-made, latex catsuit: skin-tight… It took an entire bottle of talcum powder, four people and a lot of ambition to get me into that."
Odudu didn't drink before broadcast ("There were going to be no toilet breaks in that outfit") and then had to be basted with lubricant, "to make the latex shiny". But what she felt, counterintuitively, was relief.
Ten years ago, Odudu was one of three presenters of the Big Brother after-show. Then 25 years old, it seemed to be her breakthrough moment, four years after starting her career on BBC Two. But six months later, she was abruptly let go and ended up sleeping on her dad's sofa and working at a call centre. It was those low moments she was thinking of when she was squeezed into the catsuit. "It's just been such a rocky road for me. It was like …" She sighs with relief. "Thank God."
Today, Odudu looks much more comfortable in a jumper, trousers and trainers. We meet in a London private member's club and she is drinking a matcha latte – the entire scene is something she would be ribbed for back home in Blackburn, she says. Her friends and family would joke "You've changed!", she says – the inference being that she hasn't changed much at all.
AJ, 35, was born Onatejiro Odudu, the second youngest of eight children. "My mum was a cleaner, my dad was a joiner, both immigrants from Nigeria," she says. Her mother, Florence, came to the UK in the 1970s to meet her father, James, in an arranged marriage. In Blackburn, the family was a minority. "We were the only Nigerians in the whole town. So even with my school friends, it was like: I stood out."
Still, Odudu paints a joyful picture of childhood. All 10 family members lived in a three-bedroom terrace, with one "nice room" that was saved for visitors. The rest of the house, Odudu says, was chaos – there would be queues for the bathroom.
"My mum was always really good at making quite bleak situations fun," says Odudu. "If the electricity would run out, she'd be like: 'Come on, kids! It's time to get the torches out!' … 'Let's build a den in the dark!'" When they'd run out of hot water, the eight children would create a human chain, passing pots and pans of boiled water to the bath. "Then we'd all share the bath, like, 'Your go next!'" she says, and laughs.
Her favourite moments were when the entire family was gathered around the television. "That was our thing: Generation Game in the evening, or, on a Saturday morning, Live and Kicking and CDUK. I just loved that time so much." To Odudu, TV represented togetherness. "When I was about six years old, I remember saying to my mum: 'I want to get inside the TV, how do I do it?' … It was joyous, it was fun. I was like: 'I want to make people feel like this.'"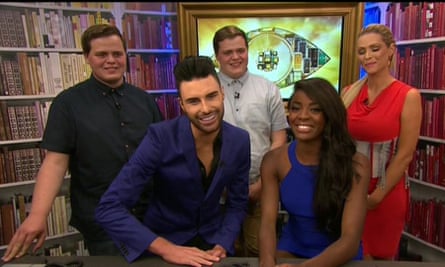 From a young age, Odudu defined herself as the performer; and, with seven siblings, "I always had a bit of an audience," she says. "They leaned into it, thank goodness … They just always allowed me to express myself – in contained bursts."
Odudu studied English and politics at Keele University. Her first job was as a reporter for BBC Radio Lancashire, in 2009, before landing her first presenting gig on BBC Two's The Almost Perfect Guide to Life. Years of TV appearances here and there seemed, in June 2013, to lead to Odudu's breakthrough: presenting Big Brother's Bit on the Side on Channel 5 with Rylan Clark and Emma Willis. But by November, she had been replaced by the former Loose Women panellist Carol McGiffin.
Odudu says she was given no explanation for why she was let go. "Even now, I'm like: gosh, that was so hard. It was so tough: after years and years of rejection, you finally think you've got your big break – and then it turns out it's not." She found the lack of feedback hardest to take. "Everyone deserves to know where they can right some wrongs or just improve." To her, it felt like "the classic: one minute they love you, the next minute they hate you".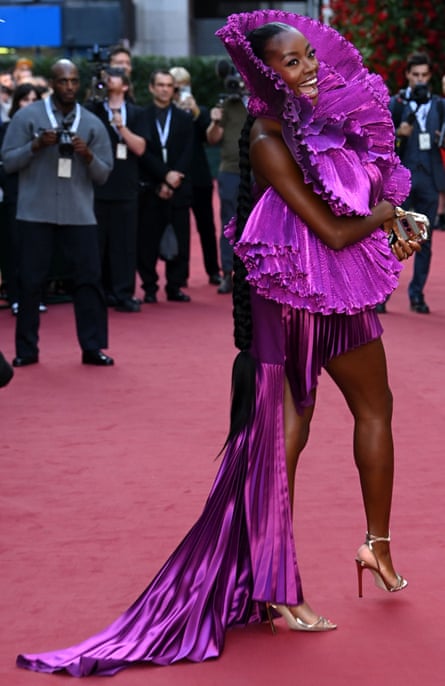 Odudu moved in with her dad, who by then was living in south London, and got a job in a call centre. Later, she worked in retail: both were the sorts of jobs where "your patience is tested to the limit", she says. Being let go by Channel 5 coincided with an "awful" relationship breakup. Most days she struggled to get out of bed. "It's just a lot, mentally, to keep getting up and putting one foot in front of the other – to keep trying, even when you feel like you've completely lost your mind."
She kept trying to break back into television. "I remember having a screen test, and the feedback to my agent was, 'Oh, we were really looking forward to meeting AJ, but she seems to have lost her mojo.' I was literally putting on a brave face – and they caught me out. I felt busted, basically."
Odudu ended up spending two years away from the industry. "My heart was aching," she says. "I was in pain for two years, like a dark cloud pushing me down … I felt like that was the end of the road, the end of my career."
She retrained as a personal trainer, set up a fitness blog and a YouTube channel, and "did all these things to build myself back up".
And bit by bit, her mojo did start to return. "If you can build yourself back up from feeling absolutely so depressed, you feel really, really, really strong … I feel like I've got quicker recovery time now."
It was Channel 4's now defunct 4 Music channel that reopened the door. In 2015, Odudu was signed to do "ad hoc-y" jobs before it turned into a regular gig, presenting alongside Maya Jama, Vick Hope and Will Best – who is now her Big Brother co-host. "I was like, 'I'm back. I'm officially a TV presenter again' … and that was an amazing boost," she says.
From there, the work kept coming – and a wide range of it. In 2018, Odudu made the Channel 4 documentary Manhunting with My Mum, which followed her and Florence around Nigeria, trying to find Odudu a husband. They didn't succeed (Odudu remains happily single) but she says the experience gave her "a newfound respect for all that my parents had been through. The culture, my upbringing."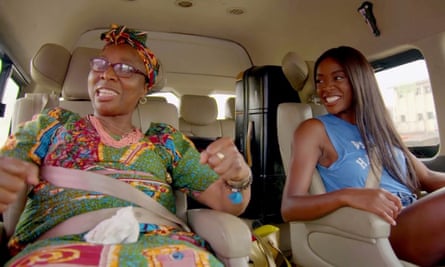 The next year, Odudu juggled Celebrity SAS: Who Dares Wins with a backstage presenting gig on The Voice. "I'd literally just been suffering in the Andes mountains … then the first job I did, as soon as I landed, was go into a studio with will.i.am and Tom Jones," she says, incredulous.
She even worked through 2020, appearing on a celebrity version of Great British Bake Off and Richard Osman's House of Games. But it was 2021 that cemented Odudu's return to screens with, among others, Would I Lie To You?, The Big Breakfast and the jewel (or sequin) in telly's crown: Strictly.
With her partner Kai Widdrington, Odudu made it to the final three before being forced to pull out after tearing a ligament in her right ankle. One minute she was "smashing it"; the next, "you're crying on TV in front of millions of people".
But again, Odudu bounced back. In the past year she has presented Comic Relief and announced the UK's Eurovision votes; she has also been a guest on everything from Ru Paul's Drag Race to The Weakest Link.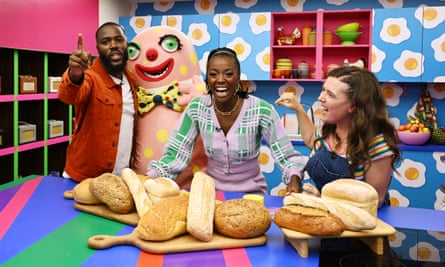 This reboot of Big Brother is her biggest platform yet. ITV2 gained the rights to the series last year, five years since it last aired (on Channel 5) – and a good decade since its heyday.
When Big Brother first aired, in 2000 on Channel 4, it was a sensation: genuinely fresh and immediately controversial. Now, audiences are overwhelmed with reality TV series, and criticism of the real psychological toll of these "social experiments" has been mounting.
This 20th season attempts to refresh the format with a new house and a diverse cast, bringing together people of different races, faiths, sexual identities and nationalities for six weeks of surveillance. Like the BBC's runaway hit The Traitors, it feels like a rare representation of modern Britain in all its madcap, unpredictable individuality.
This season's standout moments so far are a truly bizarre love triangle between Jordan, a lawyer who grew up on a council estate but learned his posh accent from Downton Abbey; Henry, a Conservative-voting food critic, who entered the house hoping to learn how to cook and clean (or else, for "a matron"); and Matty, a hippy doctor from the Isle of Man.
I tell Odudu that even my most anti-Tory friends had their heartstrings tugged by Henry's teary diary-room confession that he felt as if he was being "ghosted" by Jordan while they were trapped under the same roof. "We've all been Henry," sighs Odudu.
"The cast will be just who they are," she says. "Where else are you getting a mixed-race amputee DJ, with a working-class boxer from Liverpool, with a refugee … and a Tory?"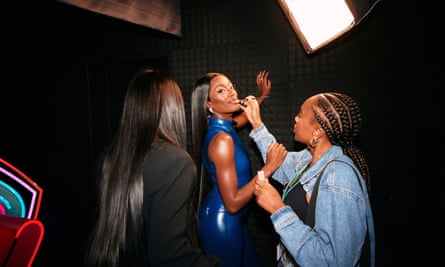 Indeed, if Big Brother puts modern Britain under a microscope, it also reveals its fractures. Trish – a 33-year-old full-time mum who was born in the Democratic Republic of the Congo and came to the UK as a refugee as a child, has been repeatedly accused of being "aggressive" by white housemates. Meanwhile, the only other Black woman in the house, Noky – a banker and last year's Miss Universe Great Britain – has been derided as a beauty queen. "She is being penalised for celebrating her achievement," says Odudu. "They can't stand it."
Odudu says that care for contestants' mental health has notably improved since her last stint on the show 10 years ago. "The moment a housemate walks out, there is a psychologist there. That's the first person that they see – which is really good to see."
Odudu says she tries to remain impartial, but "obviously, I can empathise with the Black women in the Big Brother house in a way that maybe other people can't, because I know the frustrations", she says. "I know how it feels to be called aggressive when you are simply defending yourself … You're always in defence, yet you're always the aggressor. It doesn't even make sense – and it's not fair."
When Trish and Noky put up Dylan (a Black man and DJ, with a light-up prosthetic foot) for eviction, he accused them of committing "Black-on-Black crime". Odudu says: "That was a trope that should just not be perpetuated by anyone … That was so upsetting, to hear that." It was telling, Odudu says, that, post-eviction, Dylan said he wanted Yinrun to win, because she had moved to Britain from Shanghai, and "overcome challenges that nobody in that house has". Odudu's face scrunches up with incredulity: "Trish is a refugee!"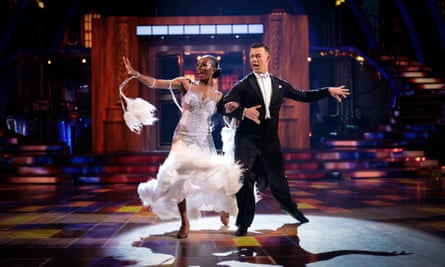 Yinrun, meanwhile, has spoken of being sidelined by the group, some of whom have questioned her grasp on English. "That was fascinating," says Odudu. "When everyone was like, 'She's really struggling with the language barriers.' She's the most articulate person in that house and yet she's sidelined because there's a perception that 'She doesn't know what we're saying anyway.'"
But these are the conversations, she points out, that Big Brother provokes, as a "microcosm of society". "These are the things that we should be talking about more freely, yet even now are nervous to talk about … That's the beauty of having it played out, just as it is: there's the conversation, make your own judgments."
Odudu is bemused to learn from me that she is now a tabloid fixture for her "sexy show looks" and "flawless figure". Besides the odd screenshot from friends, she doesn't see commentary. "It's hard enough taking scrutiny in real life. I've got bosses, execs I have to impress … I just need to focus on that."
As for the future, she'd like to be a household name. But, having been set back once before, for now Odudu is savouring the moment. "I feel comfortable, happy and content. I'm just enjoying every single little thing."
She is making the sort of TV that "were always my favourite shows to watch"; a part of the conversation and collective moments she was chasing when, as a child, she sought to climb inside the TV. If it takes skintight Latex and a bottle of talcum powder to stay there, so be it, Odudu declares. "I've fought hard for it, I'm going for it – let me squeak my way on to set."