Make chefs Junghyun Park and Jungyoon Choi's napa cabbage kimchi, stir-fried gochujang and lettuce ssam, and kimchi jjigae
Get the latest from Laura Brehaut straight to your inbox
Reviews and recommendations are unbiased and products are independently selected. Postmedia may earn an affiliate commission from purchases made through links on this page.
Article content
Kimchi stretches the definition of a national dish. The fermented mix of vegetables, spices and aromatics isn't a mere symbol — it's a dynamic and omnipresent part of daily life. "Beyond the hype or the mascot-y nature of it, it truly is at every single Korean table for every single Korean meal, no matter what restaurant or house you go to," chef, culinary researcher and writer Jungyoon Choi says through translator and project manager Jinah Rhee.
Article content
Far from a static thing, kimchi is continually evolving. Early makers preserved native vegetables such as mu (Korean radish), eggplant and cucumber in salt, write Choi and co-author Junghyun "JP" Park in The Korean Cookbook. It takes many forms, drawing on different ingredients, techniques and seasonings. As they write in the book, kimchi is a 3,000-year case study on how to enjoy your vegetables.
New developments in kimchi happen every day, says Choi, whether it's a tweak to an existing recipe or a new base ingredient. Choi was in Seoul when we spoke by video call; I was on the Sunshine Coast of B.C. A cook on the West Coast of Canada could apply the kimchi technique to a local, seasonal ingredient and create a new, completely valid version, she suggests, which would tell the story of that place.
"Kimchi is such a living example of how food becomes storytelling," says Choi, who trained at Fundació Alícia and Ferran Adrià's legendary El Bulli in Spain and is executive R&D chef of the Korean Culinary and Fermentation Research Centre at Sempio Foods. "So, when we talk about Korean food, it's not this thing that has to be confined. It's a very ongoing story of how Koreans eat."
Article content
Park and Choi, whose friendship began nearly two decades ago, cemented by a shared love of hansik (Korean cuisine), delve into the Korean way of eating in more than 350 recipes rooted in home cooking. "We tried to focus on what the current generation and people like to eat at home," says Park, the James Beard Award-winning executive chef and co-founder of the two Michelin-starred Atomix, Atoboy, Naro and Seoul Salon in New York City.
Park grew up in Seoul and, after studying culinary science at university, cut his teeth at The Ledbury in London, followed by Cutler & Co. in Melbourne. In 2010, he returned to Seoul as chef de cuisine at Korean fine-dining restaurant Jungsik and worked at the New York outpost before opening Atoboy in 2016.
"When I first started learning about cuisine, most restaurants at the fine-dining level, even in Korea, served French or Italian food. So when I started my career, I felt like I wanted to learn about more Western or European styles of food," says Park.
At the same time, considering what set him apart as a chef put Park on a path to learning more about hansik.
Article content
The food Park serves at his restaurants takes inspiration from Korean home cooking, "We're always thinking about memories that I have (from) a long time ago or some dish I liked a lot. So I'm tweaking these things to make them more modernized and more restaurant-level food."
Choi, too, got her start in fine dining and has worked in Spain, Australia and Korea over the course of her 26-year career. After being a chef for more than 12 years, she became a researcher, studying the principles of Korean cuisine: fermentation, vegetables and jang (fermented soybean sauces). Looking back, Choi admits that her career trajectory has been unique. Though she sees a connection between her past work in fine dining and the topics she researches today, her focus has changed.
As a chef, she concentrated on advancing her understanding of cooking methods and becoming technically proficient, while as a researcher, the human aspect of cooking is the centrepiece. "So, in food culture, why and how people gravitate towards certain foods, or how cooking can be a part of people's daily pleasures. The joy of living," says Choi. "Having shifted my focus to people when it comes to food has made my work more enjoyable and meaningful."
Article content

Choi offers the example of banchan, which many articles, cookbooks and other publications define as small side dishes. She and Park deliberated over the definition in The Korean Cookbook and ultimately agreed on the meaning of "dishes to accompany rice."
"We wanted to make sure that people understood that it's not a side dish when they read it. It's a dish in its own right. And it was built over thousands of years to be a dish that accompanies rice," says Choi.
Park and Choi spent more than three years working on The Korean Cookbook. At first, they approached the book as chefs, focusing on the recipes that would best highlight Korean culinary techniques. But as they started to define the framework, they realized that they wanted to tell the story of the home cooks of Korea and feature the foods common to every household — the dishes that define Korean life.
"Food is like the language of the culture. So when you look at the food, you should be able to understand how people live and communicate," says Choi. They landed on structuring the book according to the dishes that constitute a Korean meal. The book opens with a chapter on fermentation (jang, kimchi, jangajji and jeotgal), followed by bap (cooked rice), banchan, husik (desserts) and profiles of master artisans who are bringing hansik into the future.
Article content
"Even though each region, or even each family, has their recipes for how they like their soup or their specific kimchi, it was a long, research-applied method of figuring out which recipe to express that dish in that's the most common," says Choi. "Not the fanciest or the most chef-like but the most people-like."
Fermentation as the primary method of flavouring and plant-based foods, farmed and foraged from the land and sea, are the two most essential elements of hansik, Park and Choi write. Koreans are among the biggest consumers of vegetables in the world: 70 per cent of the ingredients used in the cuisine are plant-based, and more than 60 per cent of the recipes in the book are either plant-based or plant-forward and can be made vegan or vegetarian with simple substitutions (e.g. swapping salted shrimp for a soy-based product).
With an increasing focus on sustainable eating, it was an opportune time to introduce this side of hansik to the world, the authors say. From laying out a spread of banchan on the table to crafting each bite, adds Choi, "the essence and the philosophy at the centre of Korean cuisine is balance."
Article content
NAPA CABBAGE KIMCHI

Baechu Kimchi
Preparation time: 1 hour, plus 7 hours brining time and 11-12 days fermentation
Cooking time: 10 minutes
Makes: 4 1/2-5 1/2 lb (2-2.5 kg)
For the brined cabbage:
1 large head napa cabbage/Chinese leaf (4 1/2-5 1/2 lb/2-2.5 kg)
1 cup (120 g) coarse sea salt
For the rice slurry:
1 tbsp glutinous rice flour
For the kimchi seasoning:
1/2 cup (65 g) gochugaru (red chili flakes)
6 tbsp minced garlic
1 tbsp chopped fresh ginger
2 cups (16 fl oz/480 mL) Korean pear juice
1 tbsp salted shrimp
3 tbsp anchovy fish sauce
12 oz (350 g) mu (Korean radish), cut into 1 1/2-inch (4 cm) matchsticks
3 1/2 oz (100 g) onion, halved and thinly sliced
1 3/4 oz (50 g) scallions (green onions), cut into 1 1/2-inch (4 cm) lengths
1 oz (30 g) minari, cut into 1 1/2-inch (4 cm) lengths
Step 1
Brine the cabbage: Remove any damaged leaves from the cabbage. Make an incision 2 inches (5 cm) long at the base of the cabbage and pull the cabbage in half by tearing it with your hands. With extra-large napa cabbage, cut into quarters.
Article content
Step 2
In a bowl, stir to combine 1/2 cup (60 g) of the coarse salt with 4 cups (32 fl oz/950 mL) of water. Taking the halved cabbage, dip it into the salt water four times, making sure each leaf is evenly coated. Repeat for all. Sprinkle the remaining 1/2 cup (60 g) salt evenly over the cabbage, focusing on the thicker parts of the leaves and including the outer layers and the base.
Step 3
Choose an airtight glass or ceramic container large enough to fit the kimchi with a small amount
of breathing room at the top (to prevent overflow while fermentation occurs). Place the salted cabbage into the container cut-side up. Pour the remaining brine into the bowl to cover. To prevent the cabbages from floating, set a heavier object, such as a water bottle, on the cabbage to keep it submerged.
Step 4
Let the cabbage brine at room temperature for 6-7 hours. Check that the cabbage is sufficiently brined by gently bending the thickest part of the leaf; it should gently bend to the touch. Rinse the cabbage three times under cold running water, squeeze out excess water, and place the cabbage torn-side down in a sieve to drain excess moisture. Discard the brine from the container.
Article content
Step 5
Make the rice slurry: In a small saucepan, combine the glutinous rice flour and 1 cup (8 fl oz/240 mL) water and cook over medium heat, whisking constantly so that the flour does not clump. When bubbles begin to form, cook, while stirring, for another 3 minutes to form a slurry. Remove from the heat and let cool completely.
Step 6
Make the kimchi seasoning: In a large bowl, combine the gochugaru, garlic, ginger, pear juice, salted shrimp, fish sauce, and cooled rice slurry and mix until evenly combined. Add the radish, onion, scallions, and minari and toss.
Step 7
To assemble the kimchi, stuff each layer of the prepared cabbage with the kimchi seasoning mixture. After finishing each wedge, use the outermost leaf to enclose the cabbage and prevent the kimchi seasonings from escaping. Place the finished kimchi into the container with the cut-side facing up, pressing the cabbages down firmly so that there is no space left in the container. Pour any remaining kimchi seasoning over the pressed cabbages. Cover the surface of the kimchi with plastic wrap to avoid contact with oxygen as much as possible, and close the container. Let ferment at room temperature for one to two days and then move into the refrigerator for an additional 10 days.
Article content
Step 8
The kimchi can be stored for more than one year if stored well in the refrigerator, as long as it is prevented from coming into contact with oxygen as much as possible.
STIR-FRIED GOCHUJANG AND LETTUCE SSAM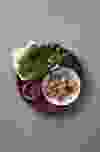 Yak-Gochujang and Sangchu Ssam
Preparation time: 15 minutes, plus 30 minutes rice soaking time
Cooking time: 1 hour
Serves: 4
For the stir-fried gochujang:
3 tbsp neutral cooking oil
7 oz (200 g) ground beef
3 1/2 oz (100 g) onion, minced
2 tbsp minced daepa (or scallion), minced
2 tbsp minced garlic
1 tbsp ganjang (Korean soy sauce)
1 tbsp doenjang (fermented soybean paste)
2 tbsp mirin
1/2 cup (120 g) corn syrup
2 cups (450 g) gochujang (red chili paste)
For ssam:
2 cups (400 g) cooked short-grain white rice (the recipe is in the book)
20 lettuce leaves
Step 1
Make the stir-fried gochujang: In a nonstick frying pan, heat the cooking oil over medium heat. Add the ground beef and stir-fry, breaking up the beef evenly to get rid of clumps. Fry until all the excess moisture released from the beef has evaporated because undercooking could spoil the yak-gochujang.
Step 2
Add the onion and daepa and stir-fry until translucent. Add the garlic and stir-fry for another 3 minutes to cook the garlic, but take care that it does not brown.
Article content
Step 3
Add the soy sauce, doenjang, mirin, corn syrup and gochujang in that order and stir-fry until evenly combined. Once it starts to boil, reduce the heat to low and cook for 15 minutes, stirring occasionally to avoid any burning or overcooking.
Step 4
For the ssam: Serve individual bowls of rice, with the lettuce and stir-fried gochujang served communally.
KIMCHI JJIGAE

Preparation time: 5 minutes
Cooking time: 30-35 minutes
Serves: 2
1 tbsp cooking oil or sesame oil
10 oz (300 g) Napa Cabbage Kimchi (see recipe), cut into 3/4-1 1/4-inch (2-3-cm) slices
1 3/4 oz (50 g) onion, thinly sliced
2 cups (16 fl oz/480 mL) water, anchovy broth or beef broth
1/2 tbsp minced garlic
1 tbsp Yondu (Korean vegan seasoning sauce)
1 1/2 oz (40 g) firm tofu, cut into 1 1/2-inch (4-cm) slices 1/4 inch (6 mm) thick
1 oz (30 g) daepa (Korean scallion), thinly sliced on a diagonal
Step 1
In a pot, heat the cooking oil over medium heat. Add the kimchi and onion and stir-fry for 2-3 minutes. Add the water and increase the heat to high. Once boiling, reduce to medium heat, cover with a lid, and boil for 15-20 minutes.
Step 2
Stir in the garlic and Yondu and add the tofu on top. Boil for 3 minutes. Garnish with the daepa and remove from the heat.
Step 3
Serve hot.
Recipes and images adapted from The Korean Cookbook ©2023 by Junghyun Park and Jungyoon Choi. Photography ©2023 by Jinju Kang. Reproduced by permission of Phaidon. All rights reserved.
Our website is the place for the latest breaking news, exclusive scoops, longreads and provocative commentary. Please bookmark nationalpost.com and sign up for our cookbook and recipe newsletter, Cook This, here.
Get the latest from Laura Brehaut straight to your inbox